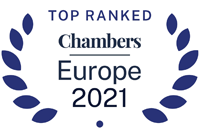 Three partners top ranked by Chambers and Partners' Europe 2021 guide
Press release 12 Apr 2021
Three partners top ranked by Chambers and Partners' Europe 2021 guide
We are delighted once again that our Private Equity practice has been recognized in Chambers and Partners' Europe 2021 guide.
Our firm was ranked in the Private Equity category in Band 4, with sources highlighting the "high-end practice focusing on private equity, most notably LBO transactions, [acting] for management on all issues arising in the context of LBO transactions including tax aspects, management packages and employee shareholdings".
In addition to the practice ranking, the guide also top ranked three of our successful partners in the "Private Equity: Buyouts (Acting for Management)" category:Lionel Scotto Le Massese (Band 1) and Isabelle Cheradame (Band 2) maintained their rankings from last year while Claire Revol-Reniépreviously listed as "Up and Coming", was appointed to Band 2.
Scotto Partners would like to take this opportunity to thank our clients for their continued appreciation and our colleagues for their ongoing dedication and performance.