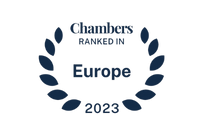 Three partners top ranked by Chambers and Partners' Europe 2023 guide
Press release 16 Mar 2023
Three partners top ranked by Chambers and Partners' Europe 2023 guide
We are delighted once again that our Private Equity practice has been recognized in Chambers and Partners' Europe 2023 guide.
Three of our successful partners were top ranked in the "Private Equity: Buyouts (Acting for Management)" category:
- Lionel Scotto Le Massese: Band 1.
- Isabelle Cheradame: Band 2.
- Claire Revol-Renié: Band 2.
More than just figures, it is an acknowledgment of our firm's increasing differentiation and of 25+ years of trusted quality.
Many thanks to our clients and peers who made this possible.