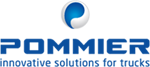 SCOTTO & ASSOCIES accompanies Pommier's management team throughout its second MBO
Press release 03 Oct 2016
Firm Contacts
Nicolas Menard-Durand
+33 (0) 1 83 92 38 38
Jérôme Commerçon
+33 (0) 1 83 92 38 38
Press Contact
Anne Bassi
+ 33 (0) 1 40 46 07 27
Paris, 3 October 2016
Scotto & Associés advised Pommier's management team in keeping its majority stake in the group's capital, alongside NCI Gestion, Bpifrance and BNP Paribas Développement, and on the exit of Omnes Capital.
A major French player in industrial automotive supply and with 12,000 employees, Pommier group generated sales of approximately €70m in 2015, of which 50% came from international operations.
The team at Scotto & Associés was made in Private Equity of Nicolas Menard-Durand (partner), Tessa Parodi de Schonen and Victor Bodart, and in Tax of Jérôme Commerçon (partner) and Raphaël Bagdassarian.